Heritage Superintendent Update for 2021-2022 School Year July 23, 2021: read or download pdf copy of update here:
https://5il.co/vxl9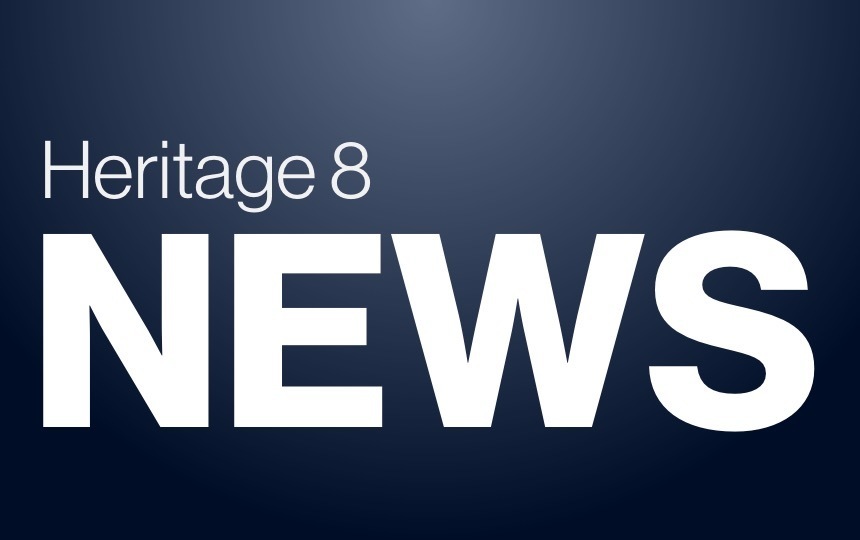 Summer construction at Heritage: Homer K-8 building multipurpose gym's new HVAC system install, old unit lifted out and new unit's base going up with Davis-Houk Mechanical & CTS. Fiber optic data backbone upgrades inside schools complete at Broadlands and started today at Homer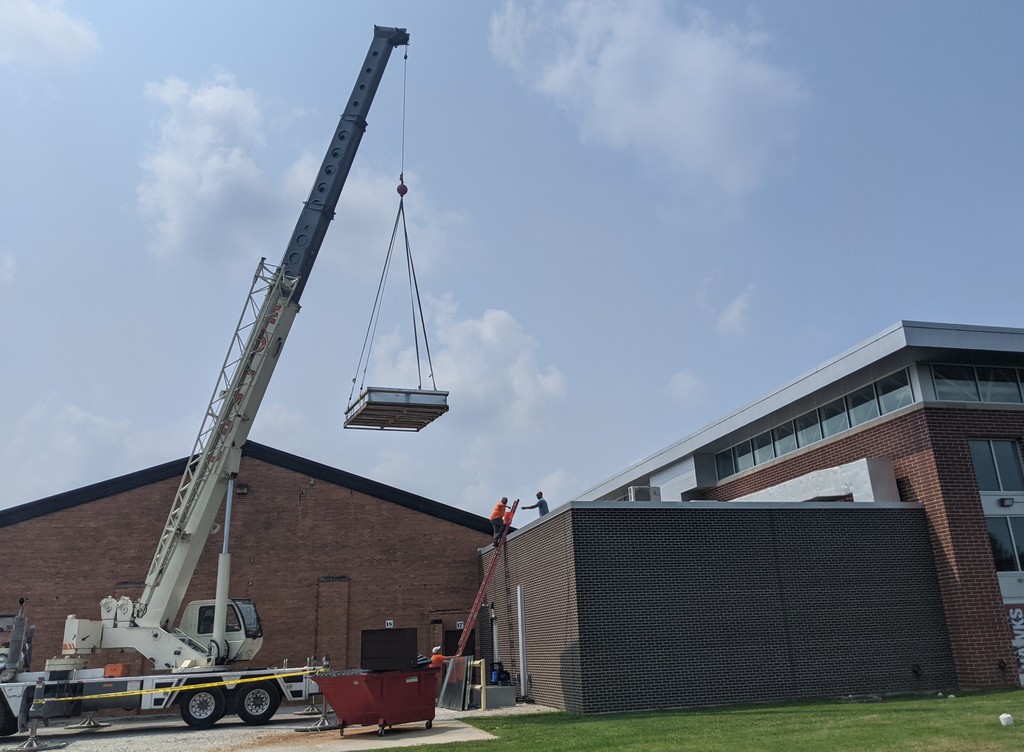 July 21 Updates to Heritage Schools Registration Information Page include Heritage K-12 Calendar for 2021-2022 (draft 1) & Heritage HS Supply List:
https://bit.ly/3wHfr3E
. Parents can look for school health guidance soon as we await updates from IDPH/ISBE/CDC & CU Public Heath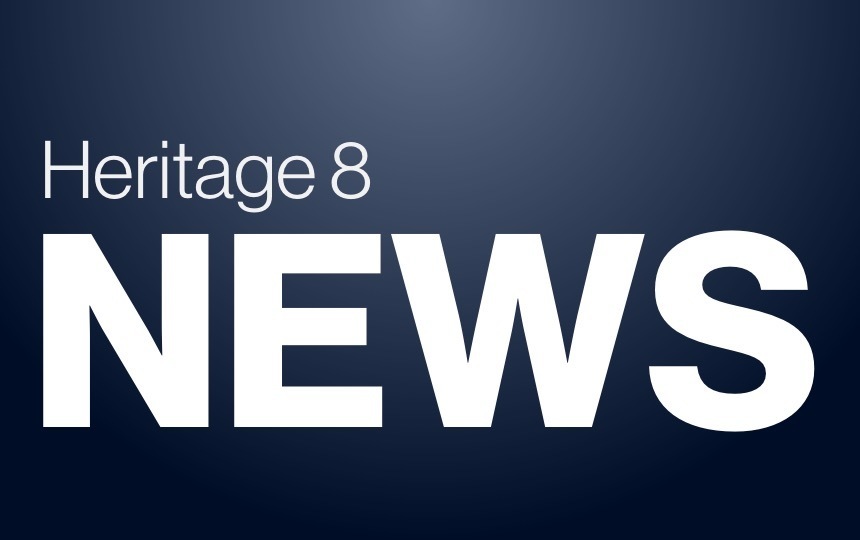 Heritage Cross Country Practice Start Date: JUNIOR HIGH (5TH-8TH GRADE) BOYS AND GIRLS & HIGH SCHOOL BOYS AND GIRLS Both practices start August 9th at the middle school in Homer Items needed before practice: sports physical, concussion waiver, insurance waiver form Head Coach CHARLES MONTGOMERY 217-377-9569
heritage.hawksjhcrosscountry@gmail.com
heritagehawkshscrosscountry@gmail.com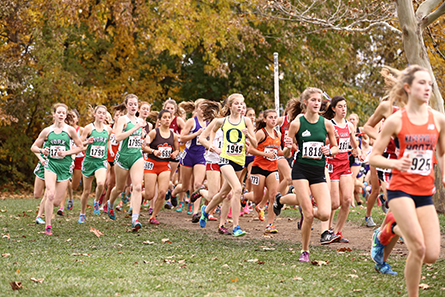 Heritage JH baseball will start Aug 2 in Homer from 9-11am. Coach Conn will send out a Remind message to players that played last season. Players need a current valid physical prior to the first practice & Coach Conn will have other IESA paperwork at practice that morning.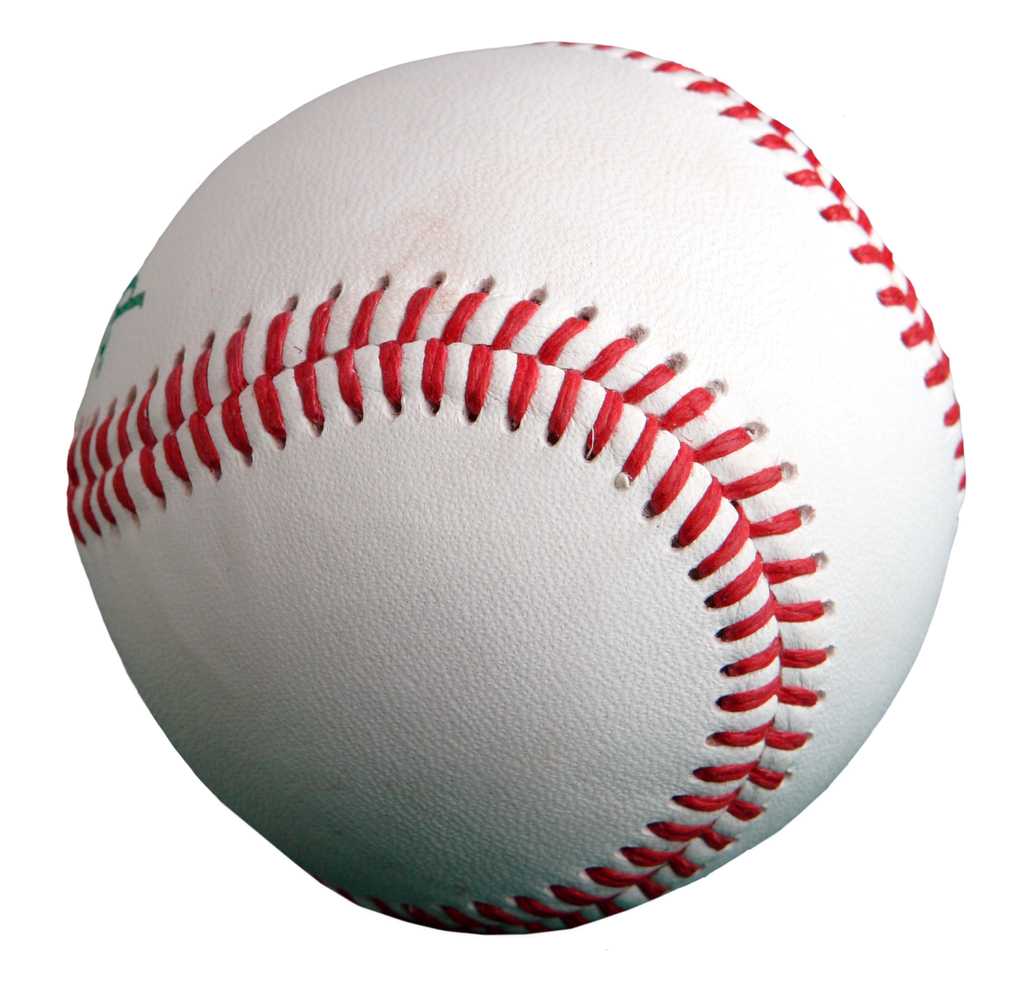 ANYONE INTERESTED IN HIGH SCHOOL VOLLEYBALL: Monday, July 26th we will have our mandatory parent/player meeting at the Homer multipurpose gym starting at 6:30 pm. We will be handing out games schedules, our Remind app code, & physical expiration dates. We will also be handing out a medical history form, concussion/PES form, & season guidelines that all have to be signed and returned prior to practice beginning on August 9th. If you absolutely cannot make it to the meeting, please have your player coordinate by messaging me on Remind or by emailing
heritage.volleyball.il@gmail.com
and we can find a way to get all the forms and information to you!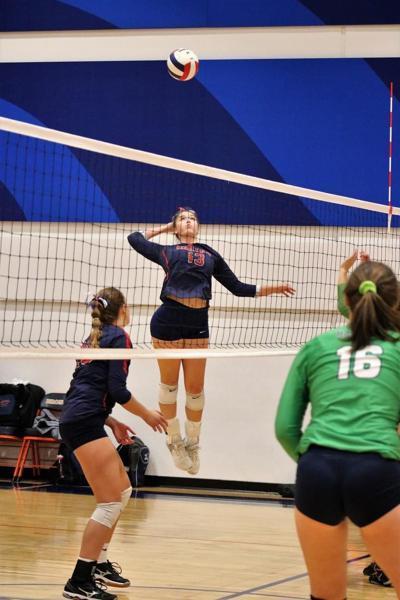 "Are you interested in working with kids in the community? Apply to be a worker in the after school program at Heritage Elementary, run by the Stephens Family YMCA! We are looking for motivated and energetic individuals who will help keep the kids engaged for a few hours after school. Main responsibilities is to supervise children through games and activities, homework, and keep them engaged while at the program. If you are interested fill out an application at the YMCA with the link below and email Jacob Meyer at
jacob@ccymca.net
or call 217-239-2813.
http://www.sf-ymca.net/about/employment/
" Applications for students for YMCA at Heritage Elementary after-school program will be available at registration August 3 & 4 at Homer and online soon. Jacob Meyer Sports and After School Director Stephens Family YMCA 2501 Fields South Drive, Champaign, IL 61822 (Email)
jacob@ccymca.net
(Phone) 217-239-2813 The Y: We're for youth development, healthy living and social responsibility.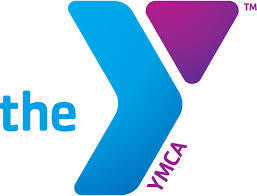 With great sadness & deepest condolences to her family from everyone at Heritage CUSD #8, we want to acknowledge the passing of our District Treasurer for three decades Myrna Madigan, who passed away July 8. The district will honor her memory at tonight's school board meeting with a moment of silence. You can read about her exemplary life and contributions to so many groups and organizations in the ABL & Homer communities and also throughout Central Illinois here:
https://www.hilligossshraderfh.com/obituary/myrna-madigan
. We can not express enough our gratitude for her decades of service, she is greatly missed at school and in the district office at Heritage.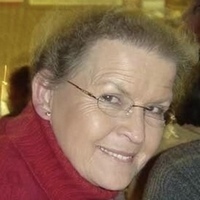 The Heritage School Board & Administration anticipate many updates to the CDC guidance from July 9, 2021 for opening of 21-22 school year. Champaign-Urbana Public Health District meeting with area schools next week, so follow our social media and web site for more announcements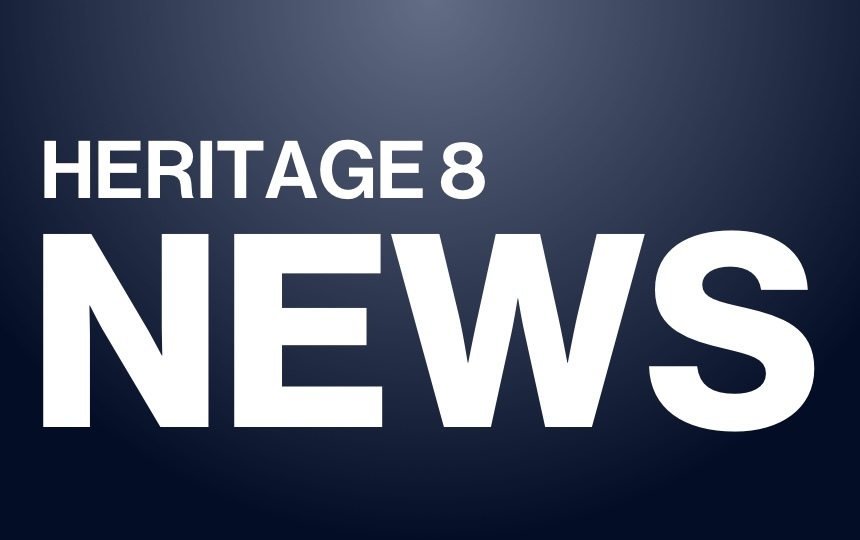 Illinois State Board of Education link for July 9, 2021 announcement from CDC for K-12 school guidance for the 2021-2022 school year:
https://bit.ly/3Bas4Yb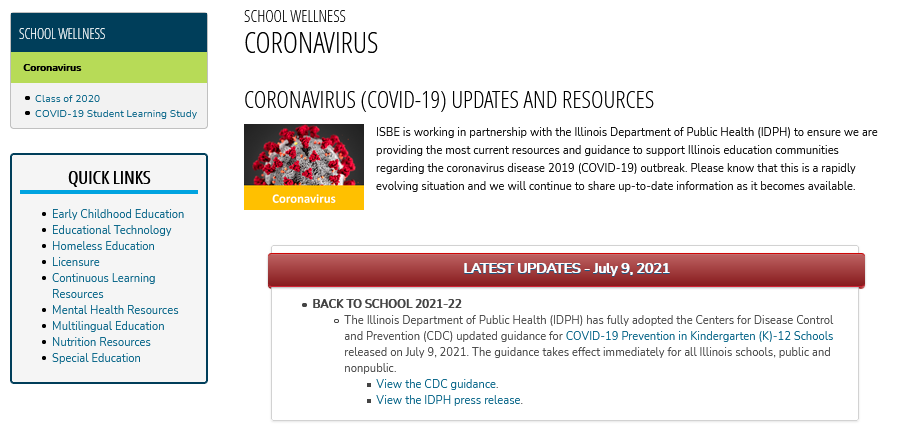 Coming Soon! Newly updated Heritage App from Apptegy, for all your school information, events, calendars, menus, forms, & social media happenings for everything Heritage Hawks K-12! Free download for all Apple & Android devices at your app store. Search "heritage schools il"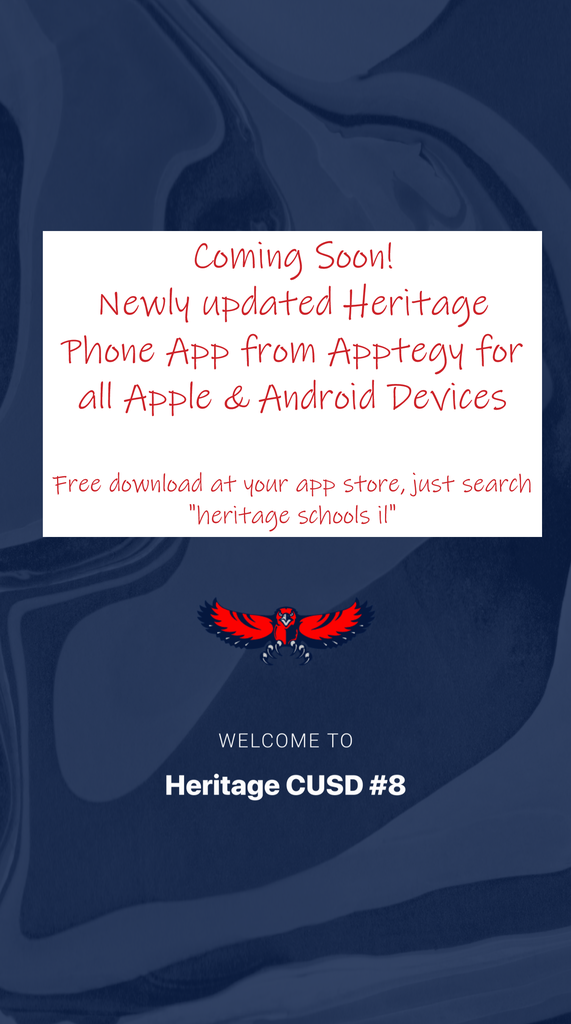 Check out Fall 2021 and some of the finalized Winter 2021-2022 Sports Schedules for Heritage Hawks High School and Junior High Sports, including new updates for JH Baseball, JH Cross Country, and HS Cross Country at
https://bit.ly/2TeDysL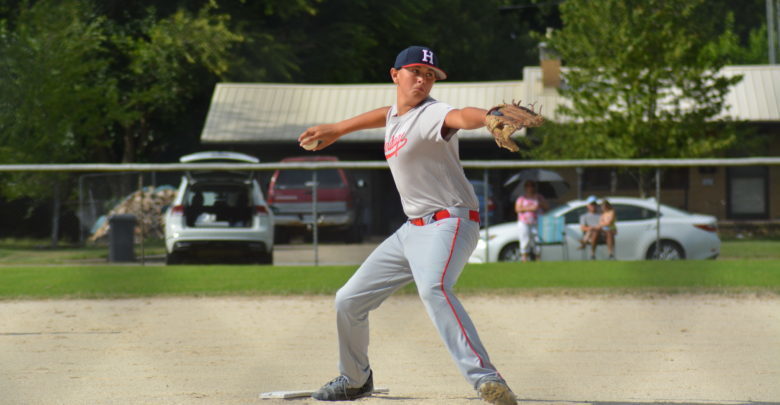 Attention Heritage incoming Kindergarten to 5th Grade Parents for 2021-2022 School Year. Thanks to very generous donation from Homer New Life Church, the supplies above provided start of new school year for all K-5 students. Full supply list for K-8 at:
https://bit.ly/3wHfr3E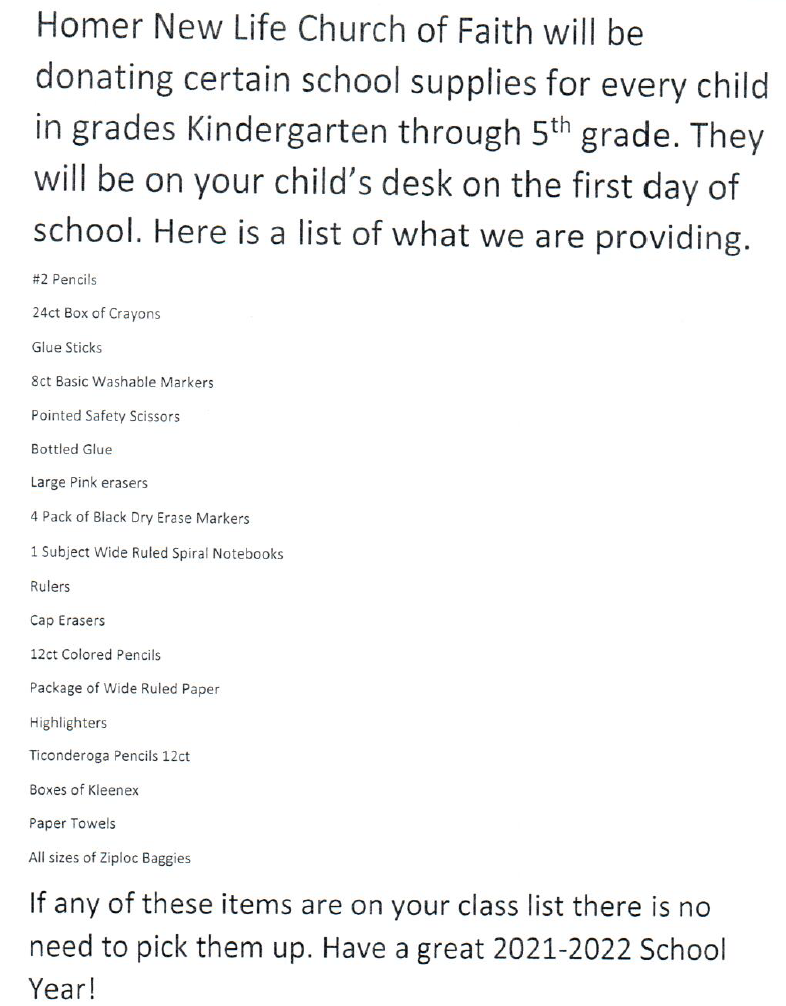 Heritage CUSD #8 K-12 Registration Information for August 3rd & 4th at Homer West Side of School at Band Room. Mailing of form packets going out this week to all last year's enrolled K-11 students. Forms also available at
www.heritage8.org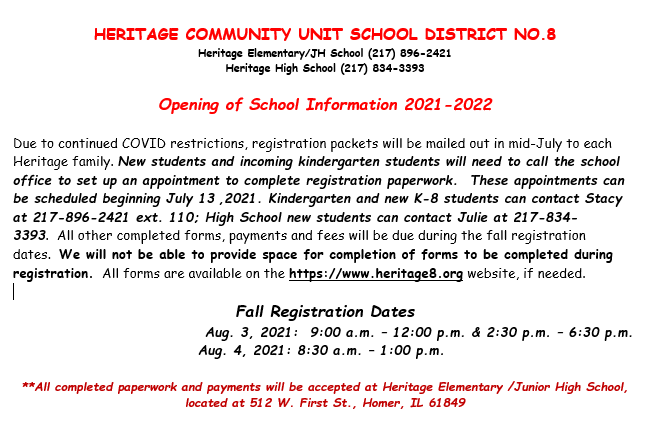 Heritage open positions 6/24. Cross Country, Girls Basketball, & Track coaching w/great pay for part-time work, last call for apps for Homer 2nd Shift Custodian Full-Time, and a new listing for Heritage Treasurer. Descriptions & online app links at:
https://bit.ly/3gUdA6Y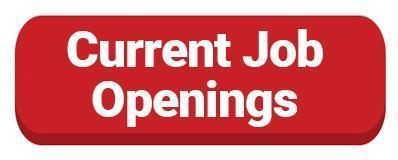 Job Openings at Heritage CUSD #8 We are hiring!!! Multiple listings including a new opening for 2nd Shift Custodian at Homer that pay $20.00 plus benefits with bus driving and coaching openings at the high school and junior high grade levels in multiple sports. All with great pay for the seasons! Homer 2nd Shift Custodian & Bus Driver Online job description and salary at
https://bit.ly/3cLTngS
JH Cross Country Assistant Online job description and salary at
https://bit.ly/3xn49lF
JH Girls Basketball Head Coach Online job description and salary at
https://bit.ly/3pWEJZI
JH Assistant Volleyball Coach Online job description and salary at
https://bit.ly/35oXlIs
JH Track Online job description and salary at
https://bit.ly/2TAFyep
Please send e-mail to Kristi Sanders, K-8 Principal, Heritage JH & Elementary School
kristi.sanders@heritage8.org
. HS Cross Country Assistant Online job description and salary at
https://bit.ly/3xn49lF
HS Assistant Volleyball Coach Online job description and salary at
https://bit.ly/3gp4zm0
HS Girls Basketball Head Coach Online job description and salary at
https://bit.ly/3cH4vLW
HS Cheer Online job description and salary at
https://bit.ly/3zsRNu2
Please send e-mail to Corey White HS Principal
corey.white@heritage8.org
.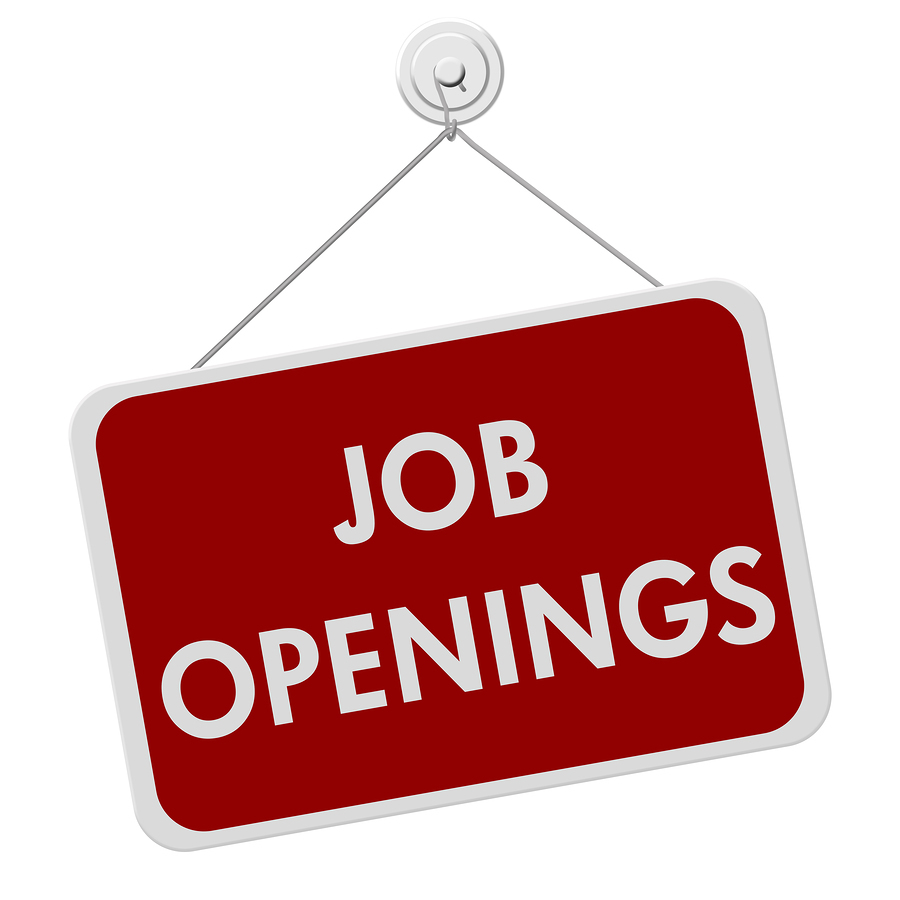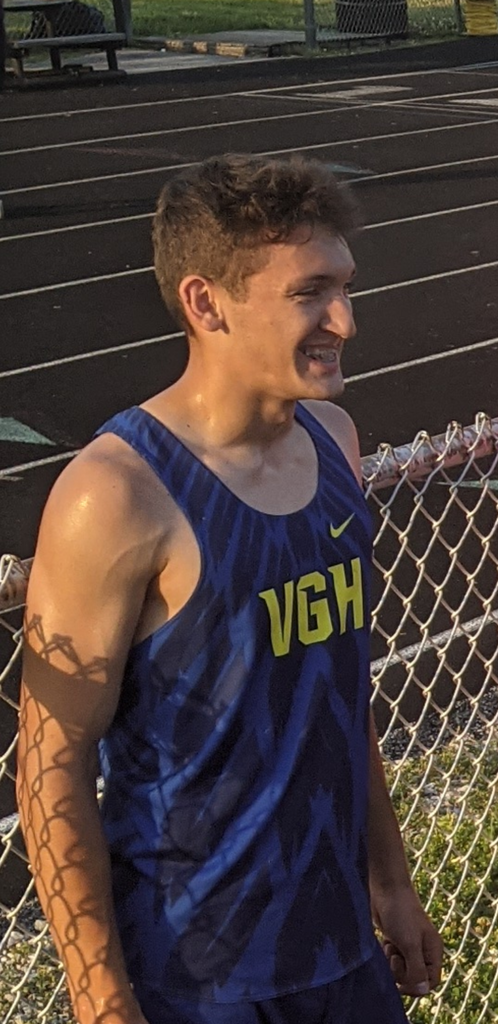 Nice article on the Heritage High School production of Spamalot this week evenings on May 25-26-27:
https://bit.ly/2Thc5Gr
. Tickets still available. Go to heritage.ludus.com to purchase yours!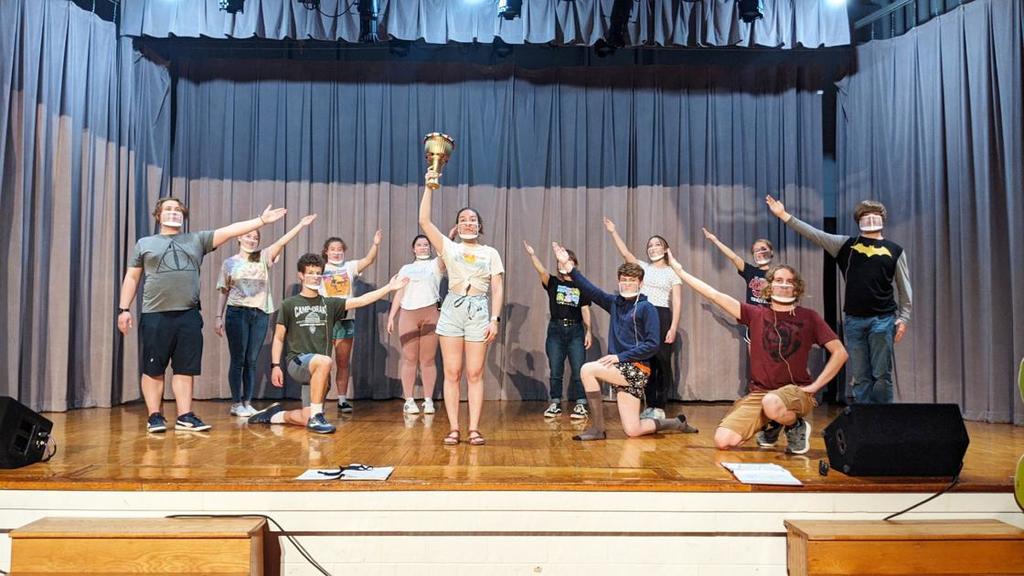 Heritage Band and Chorus Concert outdoors at Heritage High School, Grades 6-12 & celebrating our IHSA State Music Championship!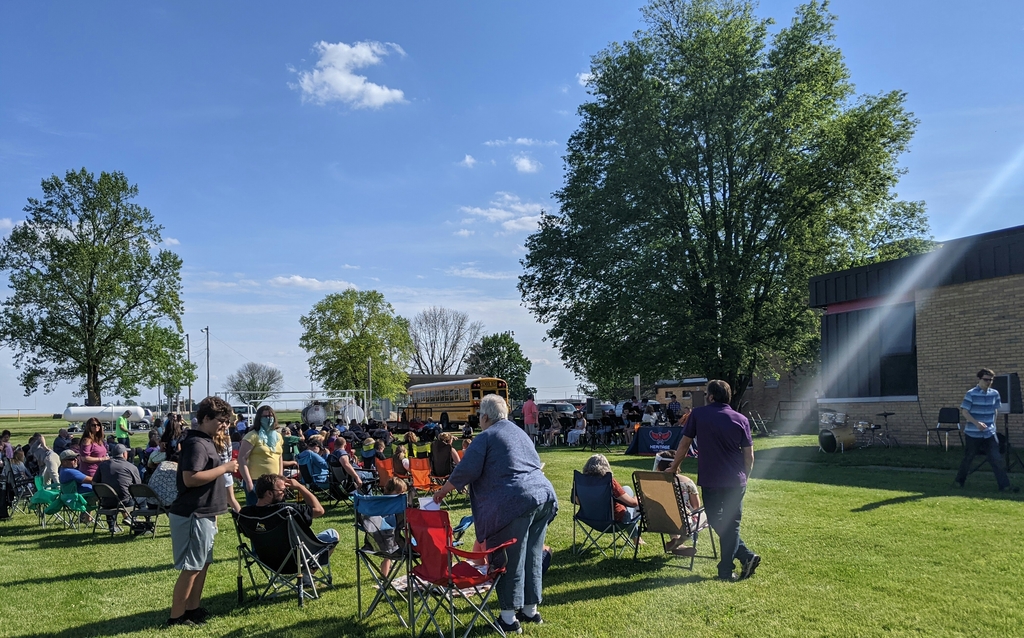 IHSA State Fishing Finals at Lake Carlisle yesterday and today, go Heritage!