For weather decisions/info for Heritage Schools, we will use our social media sites Twitter & Facebook, our Phone App with notifications, & we do inform local media once decision is made. If school is canceled, we will also send out a Phone Message.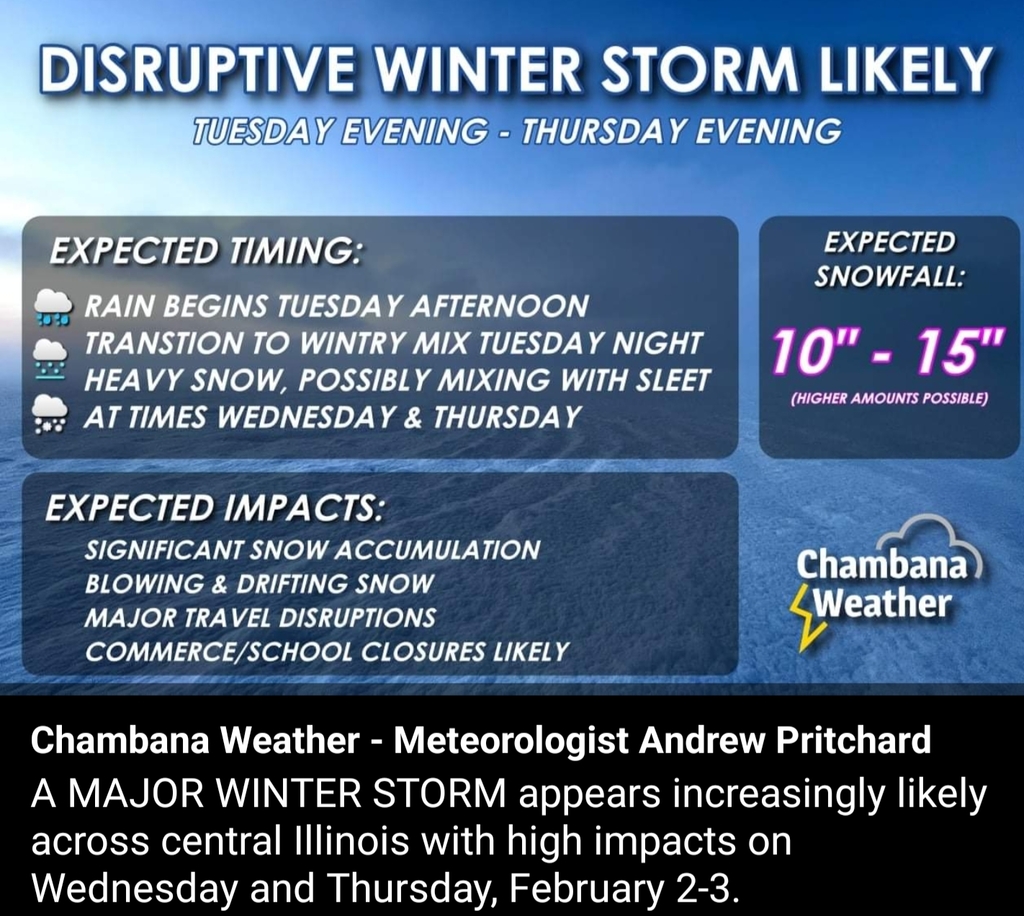 News-Gazette HS Confidential 1/28/2022 Heritage HS: At January's monthly meeting of Future Farmers of America students, Gracie Tate, Bailee Lubben and Olivia Wallace played glow bingo.— Torie Rothermel
https://bit.ly/3o6EThA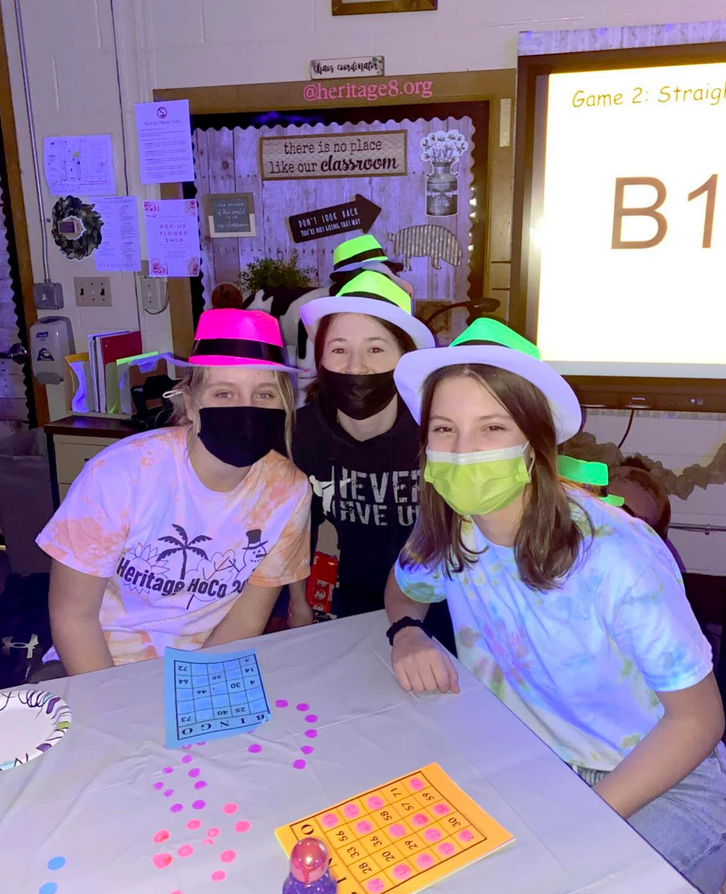 Scenes from the outstanding band concert last night at Heritage HS by our Heritage JH & Heritage HS bands, directed by Mr. Lee. Fantastic turnout too, thanks to everyone for attending for the rescheduled date, our kids were terrific and the music was uplifting!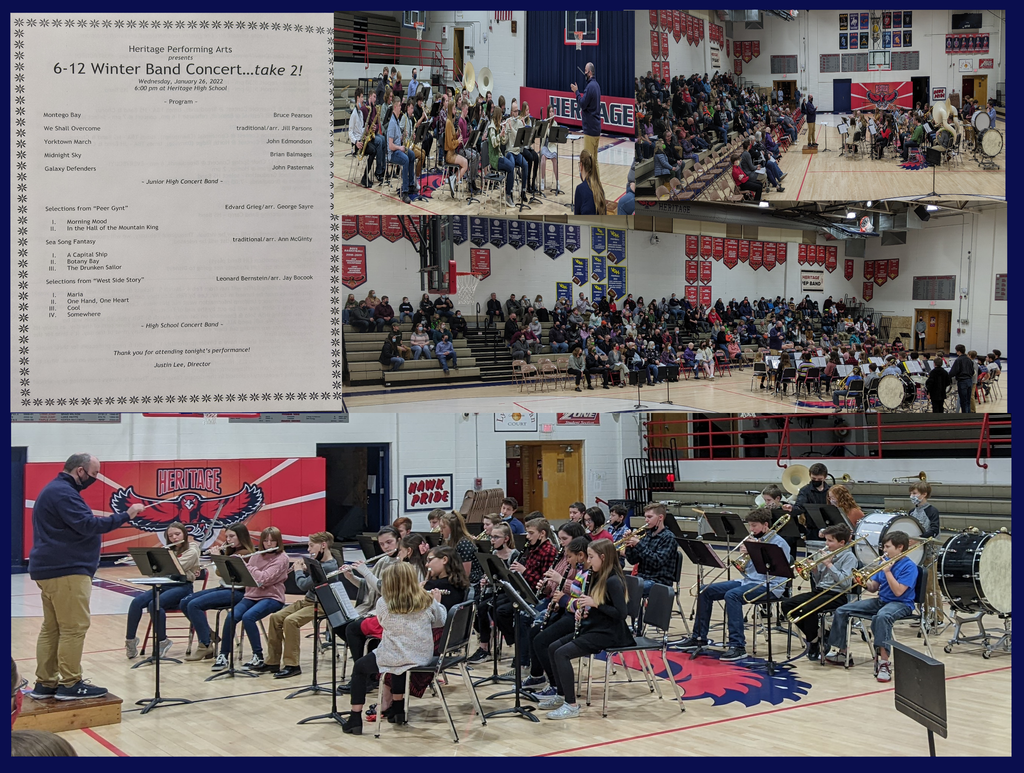 Congratulations Heritage JH Boys Basketball 7th Grade team on your win Saturday vs Chrisman at IESA Regional 48-27! Chrisman was the higher seed & the Hawks played their best game of the year! The Hawks back in action in semi-final tonight vs PVO at Chrisman Scottland JH at 6pm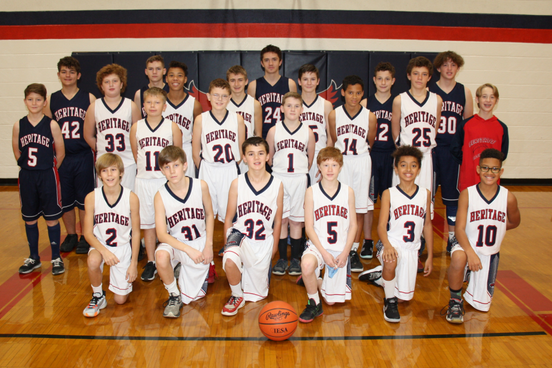 Heritage HS this weel News-Gazette HS Confidential Students in Lauren Hopper's freshman biology class investigated enzymes in fruit. Pictured: Olivia Wallace, Loran Tate, Jedidiah Nickerson and Gabi Nunez. — Torie Rothermel

Heritage Parents are invited to complete the Illinois 5Essentials Parent Survey. This feedback will guide improvement as we strive to inspire each student to realize their potential through the education & opportunities we provide at Heritage Schools-
https://bit.ly/3Kn3IiB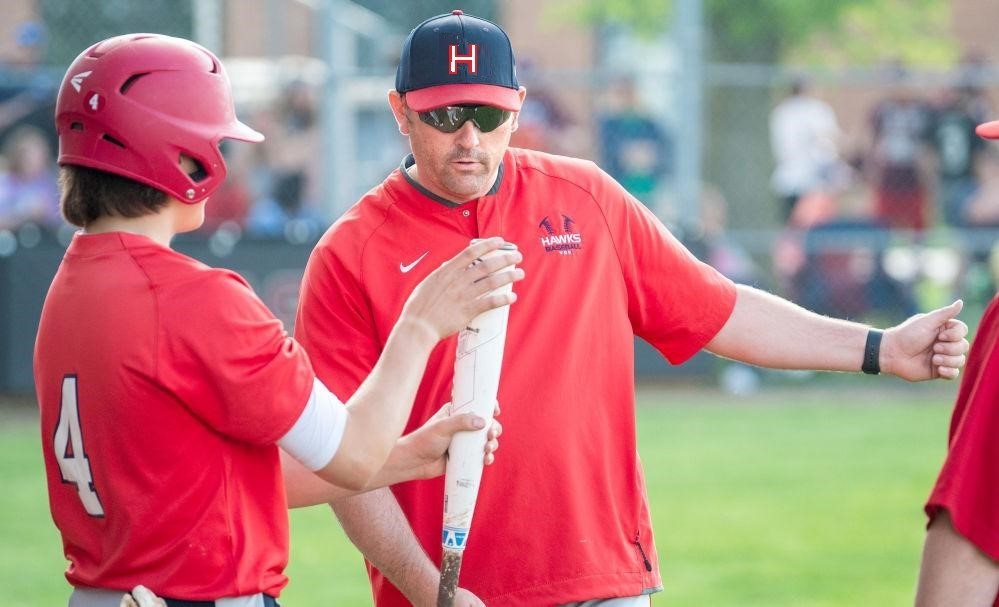 The Heritage Winter Band Concert for Grades 6-12 at Broadlands for tomorrow night has been postponed, make-up date is Wednesday January 26 at Broadlands 6pm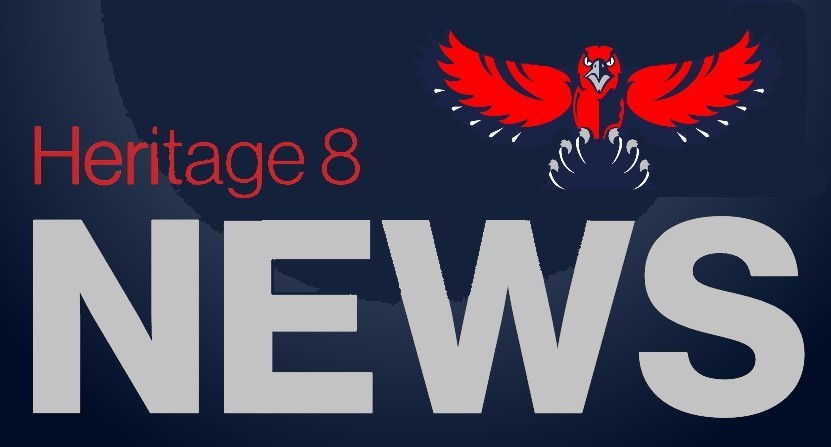 News Gazette HS Confidential 1/14/22 The animals science class has been learning about the different amounts of estrogen found in foods. Pictured: Maddy Mahaffey and Konner Pearman using beans to calculate and demonstrate estrogen levels in everyday foods. — Torie Rothermel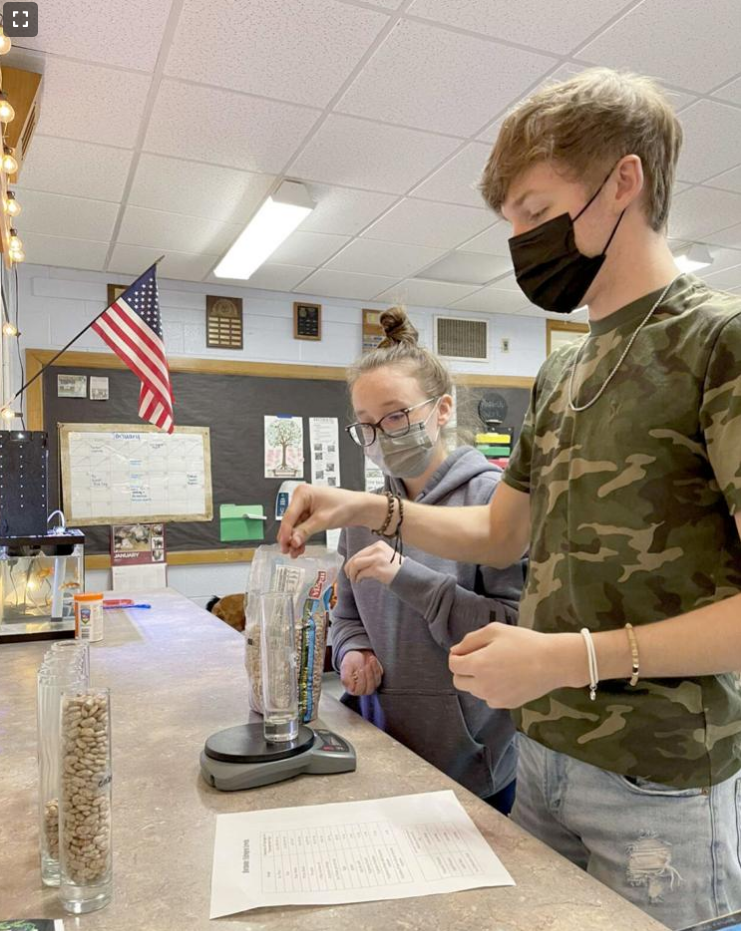 The Heritage HS Boys Basketball game tonight at Broadlands vs. Blue Ridge will be VARSITY ONLY and will start at 6pm.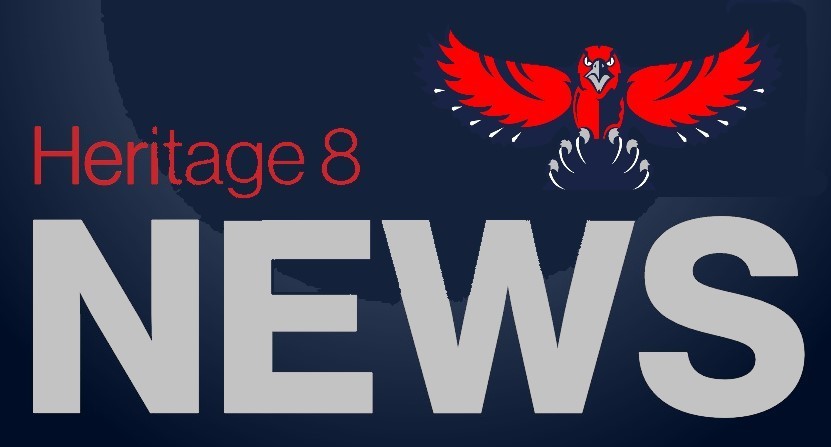 Heritage HS Boys Basketball vs Argenta-Oreana tonight at Broadlands is postponed. Heritage roster currently depleted due to confirmed case & players home with symptoms. Make up date TBA. JH Boys Basketball also canceled tonight & tomorrow night due to cases at Chrisman schools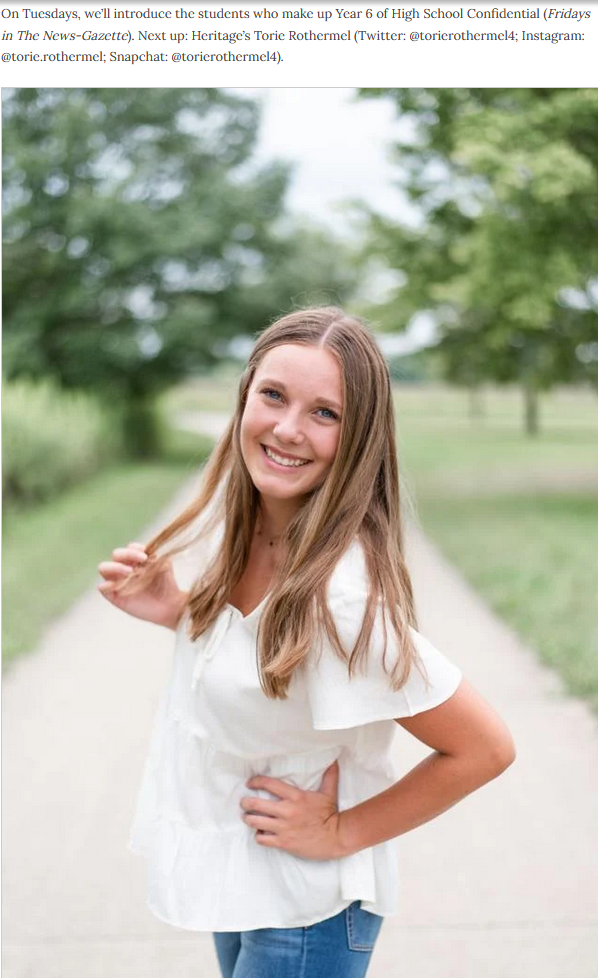 Heritage K-12 December 2021 Perseverance Awards & Jr High Students of Month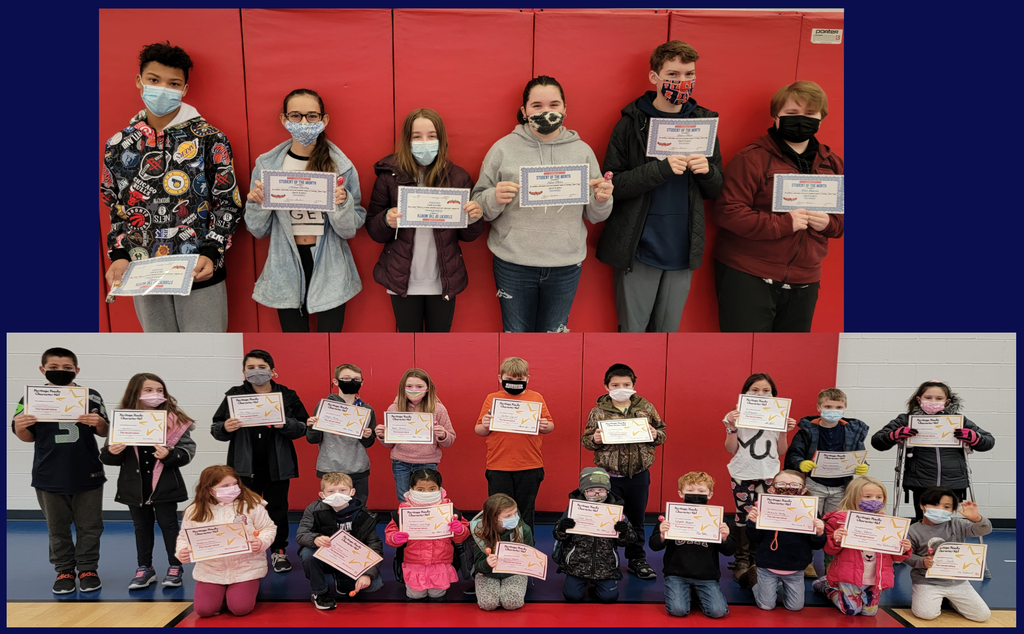 Hope everyone has had a great break and wanted to update you on the schedule as we come back. Monday, January 3rd - Teacher Institute (NO Student Attendance) Tuesday, January 4th - Students who missed Thursday, December 16th will take 1st, 2nd, 5th and 6th hour finals. All other students will study for 3rd, 4th and 7th hour finals. Wednesday, January 5th - All students will take 3rd, 4th and 7th hour finals. Day will end with an assembly and class meetings. Thursday, January 6th - Second semester classes will begin.


Heritage K-12 Schools at Homer and Broadlands will be closed on Friday, December 17th by CUPHD Waiver due to COVID and Quarantine Case Numbers at both schools. HS Finals make-up dates are TBA and will be announced. K-12 students will return on Tuesday, January 4th 2022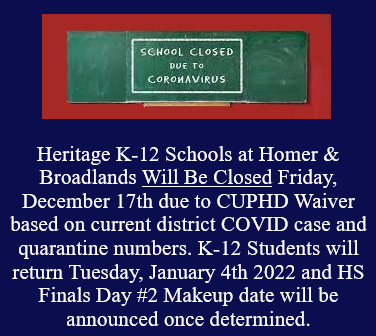 Heritage HS FFA's December 2021 Monthly Newsletter is available to download and read here:
https://5il.co/138le
. Read about their latest activities & achievements including National Convention, 3 Top Ten finishers at Parkland contests, and World Kindness Day initiatives.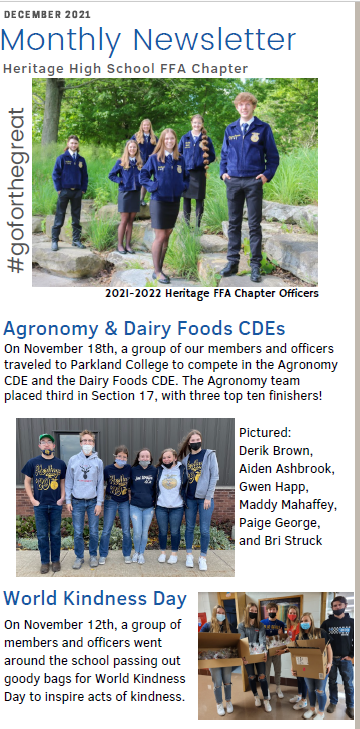 We had a special Guest Reader at Heritage Elementary for the Christmas Season! The students are all on the nice list according to our special guest!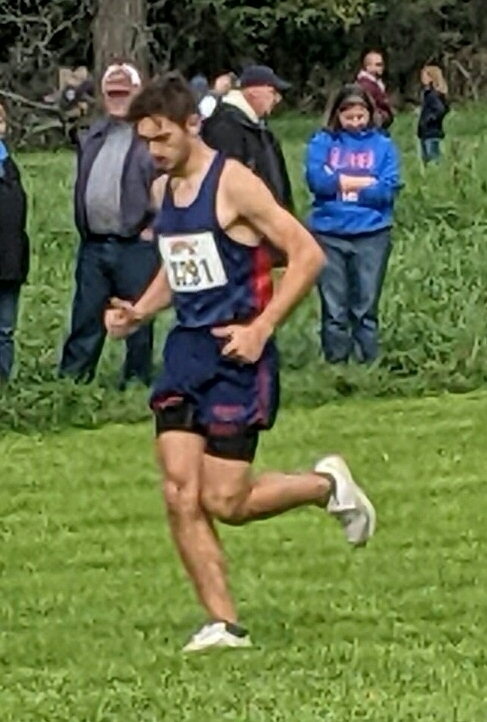 Thank you & congratulations to our 8th Grade Boys Basketball parents and their players on 8th Grade Night at Homer last night 12/13 vs ALAH!